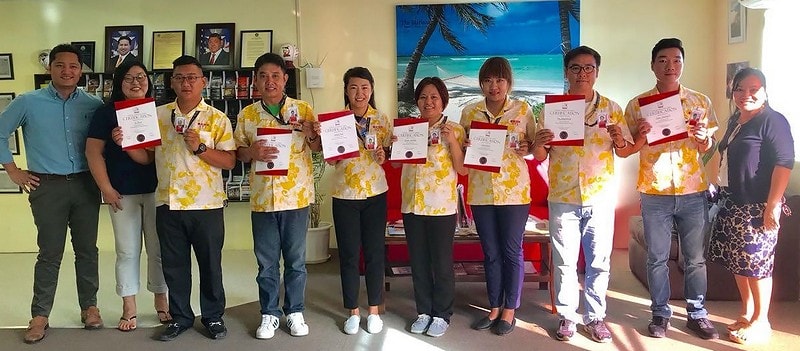 (MVA) — In less than three months since the start of the Marianas Visitors Authority's Tour Guide Certification Program, over 100 tour guides have successfully earned their certification.
"We are extremely pleased to have the cooperation and support of the many tour guides and tour operators who received their training and earned their certifications in these few short months," said MVA Managing Director Christopher A. Concepcion. "Even with staggered schedules, some of the larger companies have already completed the certification of all their guides. This is the beginning of a higher level of service and a higher visitor satisfaction with our destination."
Certified tour operators include Pacific Eagle Enterprise, Hana Tour Service, Yellow Balloon Tour, Saipan Adventure, Long Tong Tour, Zheng Chen Corp., Saipan Grace Tour Agency, J.J. Corp., Light Star Corp., Century Tours Ocean Plus, Modern Tour., Saipan Travel Inc. and Pacific Micronesia Tours. MVA is focusing its attention on ensuring all guides have at least applied and met all requirements, while they await classes.
"We are being pro-active in reaching out to tour guides at their places of business and even at tourist sites, working to ensure they have applied and have at least a temporary permit to operate while they work toward completing certification," said tour guide certification manager Kuen- Hee Han. "We understand the ports police are also starting to check permits at the airport when they see the need, and we are very grateful for this cross-agency enforcement support."
Northern Marianas College provides 20 hours of class instruction Monday through Friday beginning at 5 p.m., including: CNMI History, CNMI Geography, CNMI Rules and Regulations, Principles of Tour Guiding/Tour Operations, Tour Guide Customer Service, Tour Guide Safety & Security, Protecting the Environment, and CNMI Culture and Legends. Additional classes will be provided beginning February 2018. "Some tour guides have shared that they feel a new sense of responsibility since taking the classes," Concepcion added. "They feel a heightened sense of ownership, and some have even started picking up trash during breaks in their tour at Managaha and other locations. It's a new generation of guides for the Marianas."
Tour guide application fees are $50, tour operator application fees are $100, and the tuition fees to attend classes are $250. Tour guides will be required to complete the training course and pass a final comprehensive exam to receive certification. As proposed under draft regulations, individual tour guides will also be required to provide police and traffic clearance. Tour guides will be required to display their badges when conducting tours. The certification is valid for three years unless revoked or suspended, but the badge needs to be renewed every year.
Tour operators and tourist land/sea transport operators will be required to provide: 1) proof that the applicants maintain an office within the CNMI, 2) certification that the applicant does not employ any tour guides that are not certified pursuant to the regulations, 3) proof that the applicant maintains a bank account in the CNMI under the business' name, 4) the applicant's business license, 5) the name of an employee or a retained independent contractor who is fluent in the English language, and 6) proof that the applicant is a member in good standing with MVA.
Violations may result in monetary sanctions, revocation of certification and/or business license, refusal to issue or renew certification, or equitable sanctions. Under the current law, MVA and other government agencies are responsible for enforcement. MVA will also allow its security guards stationed at major tourist sites to act as enforcement officials.
For an application and checklist, email [email protected] For more information, contact MVA tour guide certification manager Kuen-Hee Han at [email protected] or 664-3200.
×