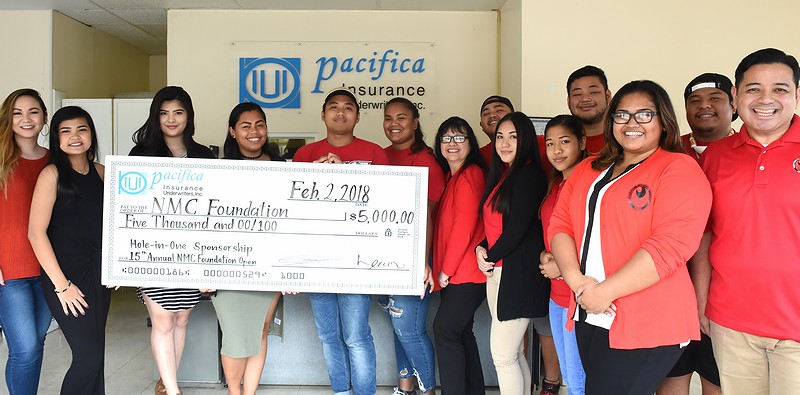 (Click photo to enlarge)
To support Northern Marianas College Foundation and its mission of providing quality educational opportunities for residents, Pacifica Insurance recently presented a $5,000 hole-in-one prize for the upcoming 15th Annual NMC Foundation Open golf tournament scheduled for Saturday, March 3, 2018.
The event will be the first major golf tournament of the year.
"If we believe in the purpose of this fundraiser golf tournament, our students will believe that we support higher education," said Shirley Sablan, President of Pacifica Insurance. "I am confident the NMC Foundation will deliver an exciting and professional tournament, as they've successfully done in past years."
"Pacifica Insurance Company has been a longtime supporter of Northern Marianas College and we are extremely thankful for their contribution this year," said NMC President Dr. Carmen Fernandez. The golf tournament is the NMC Foundation's signature event that raises funds to support NMC's academic programs and services.
"Golfers will be excited for Pacifica's cash prize offering," said Mary Tenorio, NMC Foundation board chair. "Thank you Pacifica Insurance for your continued support."
The 15th Annual NMC Foundation Open golf tournament will be held on Saturday, March 3, 2018, at the Saipan LaoLao Bay Golf & Resort (West Course). Show time is at 6 a.m. and the shotgun start will be at 7 a.m. The tournament will follow a medal play format.
First place winners in the men's Championship, A, B, C, Senior, and Ladies Flights will each receive $500, while $300 and $200 will go to the second and third place finishers, respectively.
Hole-in-one prizes include a 2017 Toyota Tacoma from Atkins Kroll Saipan, a 2017 Honda HR-V from Joeten Motors, and $10,000 in cash from Marianas Insurance Company. The tournament will also feature many other items as raffle prizes like smartphones, hotel stays, meal gift certificates, and much more.
Registration and payment can be made at Laolao Bay Golf & Resort or the NMC Cashier's Office. For sponsorship opportunities or registration information, visit marianas.edu or call 237-6833.
×