Promotion, Retention, Opportunities, Advancement
Helping Students Navigate their Path to a College Degree
Project PROA offers FREE tutoring and mentoring, activities, workshops, and resources to high school and college students.
Note: Due to the COVID-19 pandemic, Project PROA's services are offered on-campus or virtually/online (appointment/drop-in) for the Spring 2022 semester. To sign up for free tutoring and mentoring, please email This email address is being protected from spambots. You need JavaScript enabled to view it..
The PROA Center is temporarily located at the NMC Archives/Pacific Collection in Building O. Project PROA is open Monday – Friday, 8:00am – 5:00pm (on-campus/virtually) 5:00pm - 8:00pm (virtually by appointment only) and on Saturdays, 8:00am - 6:00pm (virtually by appointment only).
What is Project PROA?
The mission of Project Promotion Retention Opportunities Advancement (PROA) is to improve and expand the capacity of indigenous Chamorro and Carolinian students* in Saipan, Tinian, and Rota by increasing the proportion of those who enroll and graduate on time at NMC.
Project PROA's goals are to increase science, technology, engineering and mathematics (STEM) career interest among students and provide financial literacy education to students and their families through tutoring and mentoring and activities and workshops.
*As a federally-funded program, Project PROA serves all enrolled high school and college students.
What services does Project PROA provide?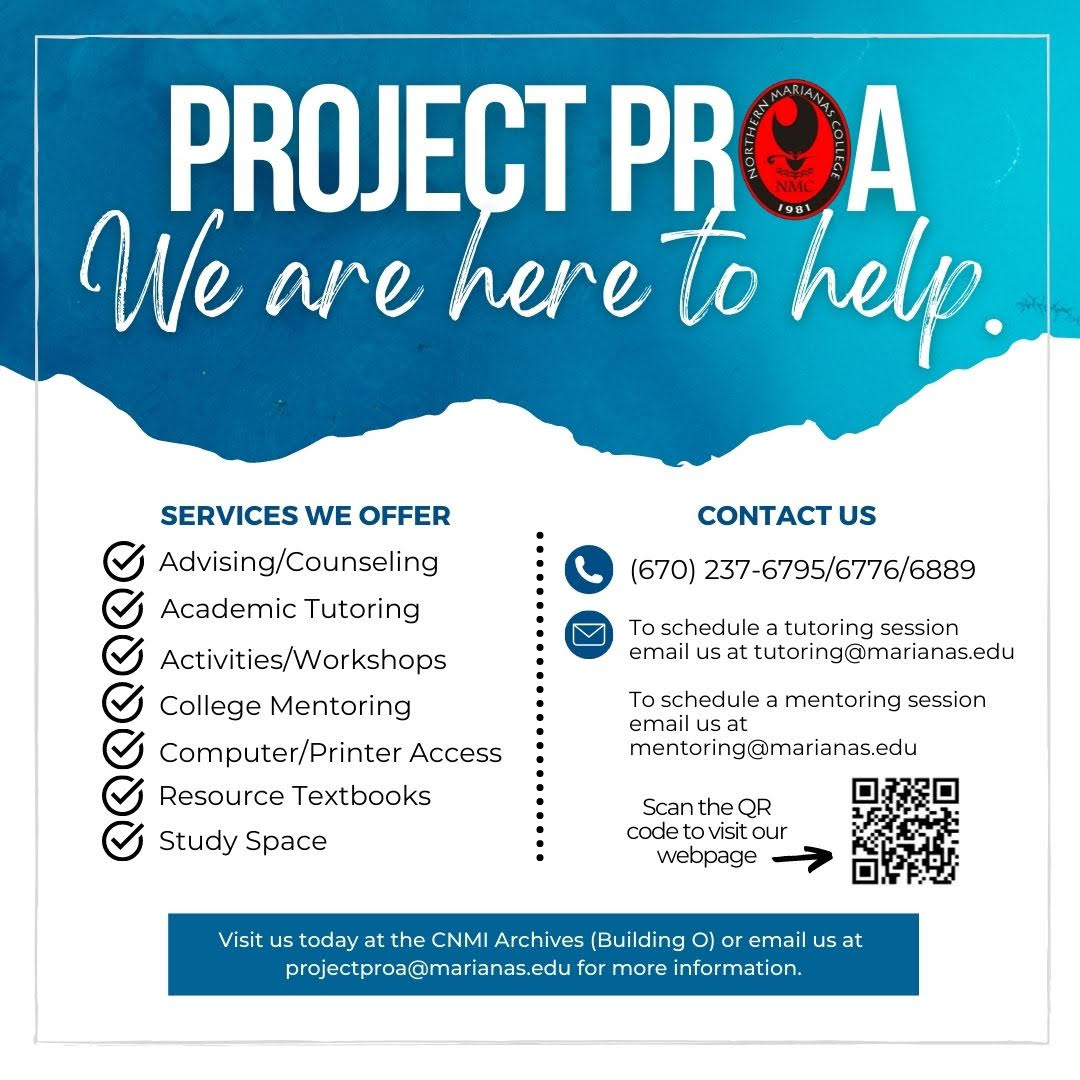 Project PROA provides the following services to high school and college students:
Tutoring and Mentoring

On-campus tutoring and mentoring &




virtual tutoring/mentoring - appointments and walk-ins accepted.

Activities

Academic, STEM & Financial Literacy, and mentorship activities are available monthly.

For upcoming activities, check your student email, Project PROA's monthly newsletter, and NMC's social media.

Resources*

Course textbooks, calculators, laptops, tablets, headphones, musical instruments, and printing/copying services.




*Resources are to be used at the PROA Center.